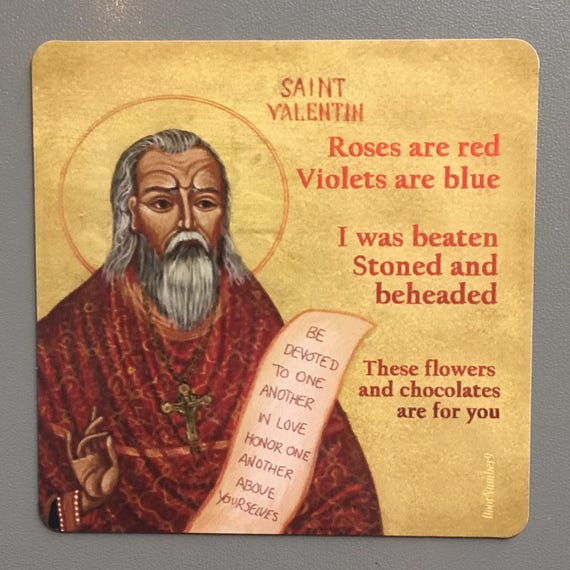 A physician and priest living in Rome during the rule of the Emperor Claudius, Valentine become one of the noted martyrs of the third century. The commemoration of his death, which occurred in the year 270, became part of the calendar of remembrance in the early church of the West. Tradition suggests that on the day of his execution for his Christian faith, he left a note of encouragement for a child of his jailer written on an irregularly-shaped piece of paper. This greeting became a pattern for millions of written expressions of love and caring that now are the highlight of Valentine's Day in many nations. (From The Treasury of Daily Prayer, published by Concordia Publishing House)
Reflection on St. Valentine's Day:  Many people decry Valentine's Day sentimentality in cards, candy hearts etc.  Nowadays I find such sentimentality almost refreshing compared to what St. Valentine's Day has devolved.
I am at the age that I begin to say too often, Now when I was kid…oh, here it goes: when I was kid St. Valentine's day was actually all about sentimentality. Now it has become a MAJOR holiday as has Halloween and St. Patrick's Day and please note that all three of those holidays are actually Christian holy days.
Why has this day become major holiday?  One reason is the public denial of the Christian faith and its influence on the culture. This has created  a vacuum, and so the secularization of certain Christian feast days.   But why Valentine's Day?    As I watch television shows, this day  is not primarily a warm celebration of boyfriends and girlfriends and sweethearts but "hooking-up".  It has devolved into a pagan celebration of the sacrament of erotic love  totally divorced from marriage.  Boyfriend and girlfriends and dating used to be for the purpose of marriage.  Not any longer.  It's about the "relationship" which might be a one night stand and eventually many night stands.  It might mean "living together" and THEN marriage.  Like Halloween and St. Patrick's Day, Valentine's day is about inebriation leading to the 'hook-up".   It does not entail "love" and what used to be called 'love-making' .  Please note: couples do not make love any longer: they seek fulfillment through sexual intercourse.  Valentine's Day is the feast day of this secular 'sacrament' and the sentimentality still surrounding the day becomes a patina and a shell for lust.  There is nothing holy about Valentine's Day in post-Christendom American culture and according to the National Retail Federation, spending today is down to only $21 billion…but the cost of our immoral/amoral society costs a whole lot more. The reason Christianity has been so cast aside as witnessed on this day, named after a Christian martyr no less (!), is simple:  marriage and morality. 
 In searching on line about St. Valentine's Day I came across this at the Lutheran Hour Ministries and according to it:
In 270 A.D., marriage had been outlawed by the emperor of Rome, Claudius II. Claudius issued this decree because he thought that married men made bad soldiers since they were reluctant to be torn away from their families in the case of war. Claudius had also outlawed Christianity in this time period because he wished to be praised as the one supreme god, the Emperor of Rome.
On St. Valentine's Day in our time, we also are seeing the outlawing of marriage in the United States as the basis of family and culture and society by serial monogamy in divorce, 'hooking-up', living together, pseudogamy (false marriage, that is, homosexual 'marriage'), pornography, etc. Certain rulers in our own land, both political and cultural, are considered as supreme, idols, in their opinions and pronouncements by many of our fellow citizens. Even orthodox Christians become afraid of being labeled "fundamentalist". Back to the Lutheran Hour Ministries posting:
Valentine was the bishop of Interamna during this period of oppression. Valentine thought that the decrees of Rome were wrong. He believed that people should be free to love God and to marry. Valentine invited the young couples of the area to come to him. When they came, Valentine secretly performed services of matrimony and united the couples. Valentine was eventually caught and was brought before the emperor. The emperor saw that Valentine had conviction and drive that was unsurpassed among his men. Claudius tried and tried to persuade Valentine to leave Christianity, serve the Roman empire and the Roman gods. In exchange, Claudius would pardon him and make him one of his allies. St. Valentine held to his faith and did not renounce Christ. Because of this, the emperor sentenced him to a three-part execution. First, Valentine would be beaten, then stoned, and then finally, decapitated. Valentine died on February 14th, 270 A.D.
I hate to say that the above I just cited might not be historical, nevertheless, it reads like a tale of our time. Now we can say, Though maybe not true, it sure sounds like it could be.
The color red is still apropos this day:  for the love of Jesus Christ and the martyrdom of Valentine.  Maybe in our churches we should remember not only married love but also St. Valentine who was martyred possibly for the sanctity of married love and Christian families in Jesus Christ and so give our witness to a society careening in a very dark night. Every marriage in Christ, and every wedding anniversary should be celebrated in every congregation.
Let us pray:  Almighty and everlasting God, You kindled the flame of Your love in the heart of Your holy martyr Valentine. Grant to us, Your humble servants, a faith like Valentine's and the power of love, that we who rejoice in Christ's triumph may embody his love in our lives; through Jesus Christ, our Lord, who lives and reigns with You and the Holy Spirit, one God, now and forever. Amen.