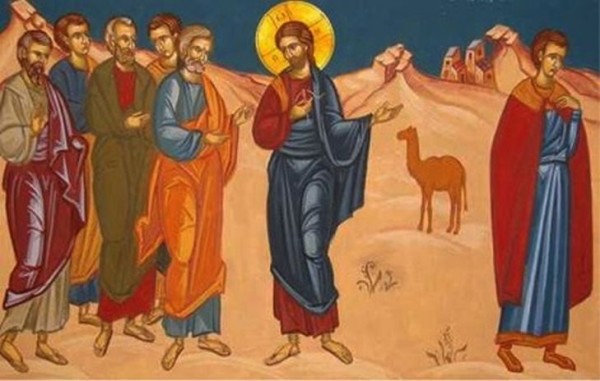 Readings:  Ecclesiastes 5:10–20   Psalm 119: 9-16 Hebrews 4:1–13 (14–16)   St. Mark 10: 23–31
Collect of the Day for the 21st Sunday after Pentecost: O God, Your divine wisdom sets in order all things in heaven and on earth. Put away from us all things hurtful and give us those things that are beneficial for us; through Jesus Christ, Your Son, our Lord, who lives and reigns with You and the Holy Spirit, one God, now and forever.
By the Voluntary Poverty of Christ, We Enter the Kingdom of God 
To love and trust in earthly wealth is vanity. For nothing of this earth will last forever, nor can any of it grant eternal life (Eccl. 5:10). But the one who trusts in God is "occupied with joy in his heart" and is able to sleep in peace, "whether he eats little or much," because he knows that the "days of his life" are "the gift of God" (Eccl. 5:12, 18–20). The person who trusts in riches cannot sleep, because he "shall take nothing for his toil that he may carry away in his hand"(Eccl. 5:15). Therefore, it is difficult "for those who have wealth to enter the kingdom of God" (Mark 20:23). Indeed, it is impossible for man, yet "all things are possible with God" (Mark 20:27). Thus, the Rich Man, Jesus Christ, has made Himself poor and has gone through "the eye of a needle,"through death and the grave, "to enter the kingdom of God" on our behalf (Mark 20:24–25). He is the "great high priest who has passed through the heavens" (Heb. 4:14), so that we may now enter His Sabbath rest by faith in His forgiveness (Heb. 4:3–9).