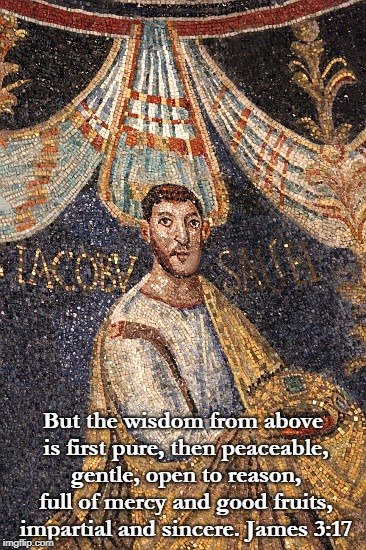 Lessons: Acts 15: 12-22a, Psalm 133, James 1: 1-12, St. Matthew 13: 54-58
Prayer of the Day:
Heavenly Father, shepherd of Your people, You raised up James the Just, brother of our Lord, to lead and guide Your Church. Grant that we may follow his example of prayer and reconciliation and be strengthened by the witness of his death; through Jesus Christ, Your Son, our Lord, who lives and reigns with You and the Holy Spirit, one God, now and forever.
Biography: St. James of Jerusalem (or "James the Just") is referred to by St. Paul as "the Lord's brother" (Galatians 1:19). Some modern theologians believe that James was a son of Joseph and Mary and, therefore, a biological brother of Jesus. But throughout most of the Church (historically, and even today), Paul's term "brother" is understood as "cousin" or "kinsman," and James is thought to be the son of a sister of Joseph or Mary who was widowed and had come to live with them. Along with other relatives of our Lord (except His mother), James did not believe in Jesus until after His resurrection (John 7:3-5; 1 Corinthians 15:7). After becoming a Christian, James was elevated to a position of leadership within the earliest Christian community. Especially following St. Peter's departure from Jerusalem, James was recognized as the bishop of the Church in that holy city (Acts 12:17; 15:12ff.). According to the historian Josephus, James was martyred in AD 62 by being stoned to death by the Sadducees. James authored the Epistle in the New Testament that bears his name. In it, he exhorts his readers to remain steadfast in the one true faith, even in the face of suffering and temptation, and to live by faith the life that is in Christ Jesus. Such a faith, he makes clear, is a busy and active thing, which never ceases to do good, to confess the Gospel by words and actions, and to stake its life, both now and forever, in the cross. (From The Treasury of Daily Prayer, Concordia Publishing House)
Dietrich Bonhoeffer, in the '30s in Nazi Germany, preached on Peter's confession of the Christ as the Lord building his Church and the pastor proclaimed to the Church, "Don't always be on the lookout for another refuge!" James, the brother of Jesus, found his refuge in his own brother who is also His Lord. James built up the Church in faith working in love toward the neighbor with the wisdom of our Lord from on high. We have so many refuges today that are at times benign and frightening like hunkering down in our homes afraid of the shadow of sickness or vain philosophies and notions of men. James found the true refuge as the true Refuge found James and from that mighty fortress proclaimed the Word and witnessed to it finally with his blood.
We sing of James, Christ's brother/Who at Jerusalem/Told how God loved the Gentiles/And, in Christ, welcomed them./Rejoicing in salvation/May we too, by God's grace, Extend Christ's invitation/To all the human race.
("By All Your Saints in Warfare", Lutheran Service Book, #518, stanza 27)