Deuteronomy 12:  29  "When the LORD your God cuts off before you the nations whom you go in to dispossess, and you dispossess them and dwell in their land, 30take care that you be not ensnared to follow them, after they have been destroyed before you, and that you do not inquire about their gods, saying, 'How did these nations serve their gods?—that I also may do the same.' 31You shall not worship the LORD your God in that way, for every abominable thing that the LORD hates they have done for their gods, for they even burn their sons and their daughters in the fire to their gods.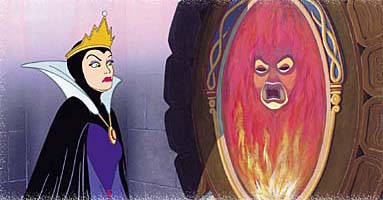 Mirror, Mirror on the wall, who's
the fairest one of all?
I guess the reason Israel went after the false gods of the "nations" is those gods seem to be so successful.  Maybe Israel reasoned we can have it both ways: the one true God and the others.  The gods of the nations, though, committed perversions, not only sexual immorality, but with such immorality, idolatry as, "…they even burn their sons and their daughters in the fire to their gods".  You may say, Oh, not us!  Yet we do burn up the next generation in abortion…after sex outside of marriage and it's attendant birth control has failed or was not used in the heat of the moment.  In our day, children are offered up to the gods. But what god?!  One such god comes to mind:  the self. We are always inquiring after the god in the mirror: What is convenient?  What is in my best self-interest?  Even 'enlightened' self-interest?  How can I satisfy myself this day?  And all advertisements and commercials just stoke the fire of covetousness, teaching us to love yourself above all things. Perverted human reason thinks: 'This pregnancy won't fit into my 'lifestyle' now, it's too bad, but it's better for all'.  Even using love of neighbor as self-justification for murder compounds the breaking of the commandments.  We are directed inward and when the inward falls apart then the gnawing maw of Godless despair opens up with hell beneath.  The Lord seeks this lost generation, you and I.  "Still seeking not Himself but us."  Return home to the Lord if you are in the distant country.  His grace precedes and leads us to guide us out of our selves to Him.  We have the guide Book:  the Bible which faithfully and without error points us to Jesus Christ.
Let us pray:   Blessed Lord, since You have caused all Holy Scriptures to be written for our learning, grant that we may so hear them, read, mark, learn, and inwardly digest them that we may embrace and ever hold fast the blessed hope of everlasting life; through Jesus Christ, Your Son, our Lord, who lives and reigns with You and the Holy Spirit, one God, now and forever.
For us He prayed; for us He taught;/ For us His daily works He wrought,/ By words and signs and actions thus/ Still seeking not Himself but us. 

—O Love, How Deep (LSB 544:4)
(Except for the reflection, the above is cited in The Treasury of Daily Prayer, Concordia Publishing House, for this day}