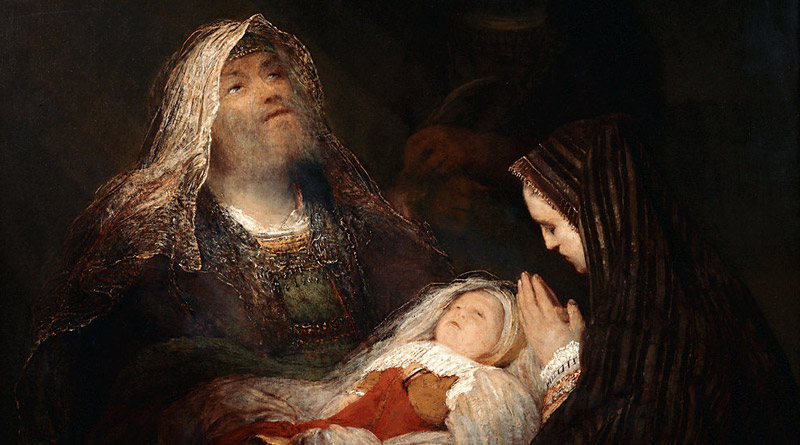 Hannah was the favored wife of Elkanah, the Ephraimite, and the devout mother of the prophet Samuel. He was born to her after years of bitter barrenness (1 Sam 1:6–8) and fervent prayers for a son (1:9–18).After she weaned her son, Hannah expressed her gratitude by returning him for service in the House of the Lord at Shiloh (1:24–28). Her prayer (psalm) of thanksgiving (2:1–10) begins with the words, "My heart exults in Lord; my strength is exalted in the Lord." This song foreshadows the Magnificat, the Song of Mary centuries later (Lk 1:46–55). The name Hannah derives from the Hebrew word for "grace." She is remembered and honored for joyfully having kept the vow she made before her son's birth and offering him for lifelong service to God. (From The Treasury of Daily Prayer, Concordia Publishing House)
As you just read, Hannah's name derives from the Hebrew word for "grace". The New Testament lesson for today is from Ephesians 2:
8 For by grace you have been saved through faith. And this is not your own doing; it is the gift of God, 9 not a result of works, so that no one may boast. 10 For we are his workmanship, created in Christ Jesus for good works, which God prepared beforehand, that we should walk in them.
The hymn verse for today, from the Lutheran Service Book is,
"By grace God's Son, our only Savior,
Came down to earth to bear our sin.
Was it because of thine own merit
That Jesus died thy soul to win?
Nay, it was grace, and grace alone,
That brought Him from His heavenly throne.'
This is a day of grace.  Grace is the Lord's utterly free gift  to save sinners through faith in the Lord's once and for all atoning sacrifice.  Grace by itself is only lovely, as the Lord's free gift for sinners: it is powerfully saving.  Grace is for the barren and embittered, the doubting and the dead, the least, the last and the lost, those lost in the sinners' labyrinth.  Hannah knew as she sang her song that it brings low the haughty and raises up high those of low degree. She would have a child she who was barren.   Can your most 'powerful' spiritual works and philosophies stave off sin and death? Hannah's Lord has and has for you: Jesus Christ. "What but Thy grace can foil the tempter's power?" ("Abide With Me")