Text: St. Luke 24: 44 Then he said to them, "These are my words that I spoke to you while I was still with you, that everything written about me in the Law of Moses and the Prophets and the Psalms must be fulfilled." 45 Then he opened their minds to understand the Scriptures, 46 and said to them, "Thus it is written, that the Christ should suffer and on the third day rise from the dead, 47 and that repentance for the forgiveness of sins should be proclaimed in his name to all nations, beginning from Jerusalem.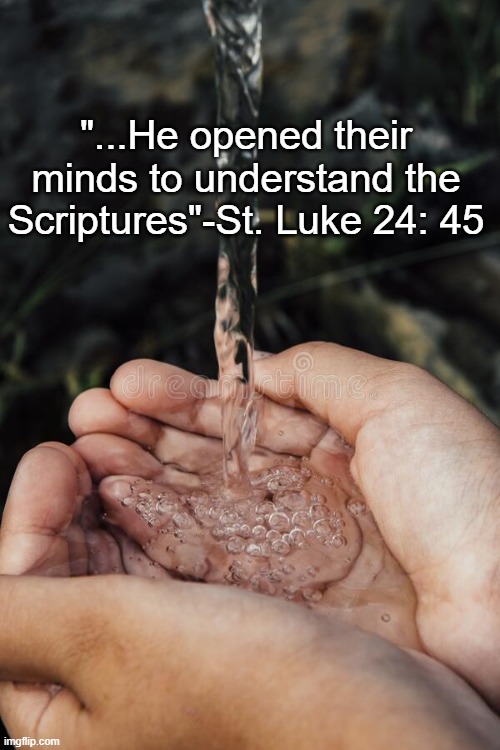 When a man appears out of nowhere, who was dead, the first thing that comes to the Old Adam's way of thinking: It's a ghost! So right away the Lord questions, does a spirit, a phantasm have flesh and bones? Yet He again appeared among the 12, flesh and bones. He who needs no food eats and most importantly, no ghost has wounds. In the movie "Ghost", the ghost, played by Patrick Swayze comes back to his wife. He was brutally killed, this ghost had no wounds. He came back to get his murderer. Jesus is risen not to get sinners. The Lord has the wounds of the Cross and is risen for the repentance and forgiveness of even murderers, as He was crucified for fallen sinners. The Lord cares for His flesh and blood, that is our flesh and blood, and our spirits and minds. Each one of us individually, not by categories of Jew and Greek, male and female, not by skin color, class or intelligence but as those, all of mankind, who so need to be loved and redeemed.
"Since therefore the children share in flesh and blood, he himself (Jesus) likewise partook of the same things, that through death he might destroy the one who has the power of death, that is, the devil, 15 and deliver all those who through fear of death were subject to lifelong slavery."(Hebrews 2: 14-15)
What is sin? From today's epistle reading: Everyone who makes a practice of sinning also practices lawlessness; sin is lawlessness.
Lawlessness means not only without civil law, as we are seeing in street riots and legal acceptance of infanticide, adultery, gambling, sins against marriage, idolatry…all of which crucially means without God's Law. Without God's law we become a law unto ourselves. "Whoever practices righteousness is righteous, as he is righteous.", as the Lord has commanded in His Law. Not by His Law keeping do we become God's children; but by His sacrifice once and for all for us, but living as His children, the Good Shepherd His children seeking. Bernie Madoff died this past who bilked billions of dollars out of people stealing their lives through a massive ponzi scheme. Bernie Madoff perfected stealing. He was well practiced in sin…as we all can be. Madoff was brilliant at it. Don't make it a practice to sin. This practice does not make perfect, but makes for eternal death.
We deserve but grief and shame,
Yet His words, rich grace revealing,
Pardon, peace, and life proclaim.
Here their ills have perfect healing
Who with humble hearts believe–
Jesus sinners doth receive.
What can we do to practice righteousness as the Lord is righteous and not practice lawlessness? Answer: always turn to the Lord in His Word. You see, Jesus opened their minds to the Scriptures as Jesus Christ is the key to the Bible that His grace comes before us, stays with us and leads us. He opens us to the truth which sets us free from lawlessness and freed to serve our neighbor the truth of both God's Word and His good works.
Now Christians have been accused of not having an "open mind". If you're open to everything, you'll fall for anything, Jesus opened their minds which means they were shut up. He opened them by the truth of sin and His bloodied forgiveness in His death and resurrection to search openly for the Kingdom and reign of God in His Word. God's Law reins in our worse and His Gospel reigns and rules to bring us His best: Himself, the Holy Spirit. The Lord's goal is an opened mind, not an open mind. He does not command an open mind. The difference between an opened mind and an open mind is like a summer day, when you were a kid. It's hot, you go to the outdoor faucet to get a drink. If you had put your hands together, and your fingers are wide open you would never get a drink. You cupped your hands, opened yet a receptacle for a drink. God's Word, the Lord's nail imprinted hands are our hands cupped to receive His Word in His Words rich life revealing.
Nowadays, I don't hear too many exhortations any longer to "keep an open mind". In 1987, a philosopher Allan Bloom wrote a huge bestseller, The Closing of the American Mind with this telling subtitle, "How Higher Education Has Failed Democracy and Impoverished the Souls of Today's Students". Not only are minds shut up, but they have signs and signals on them: Keep out! I have sympathy for the saying for Christians: our minds are made up and our door is always open. Yes, we believe in the Lord as He has laid out His narration in Old and New Testaments and as Christ is risen, we too shall rise. Yes, our minds are made up and open to learn more of His truth both in His creation (read, also here science) and His redemption (His love for each of us as if you are the only person on earth) to grow in faith, hope and love. But once the door is shut, no one can open…save Jesus Christ who stood in the midst of the disciples saying, Peace be with you. He opened the three part nature of the Old Testament:
In the Law of Moses, it is clear: You shall love the Lord your God with all your heart and with all your soul and with all your might. Deuteronomy 6:5 and equally clear is the text, "…you shall love your neighbor as yourself", Leviticus 19: 18. Jesus put those two passages together to sum up the 10 commandments, the vertical and the horizontal of the commandments and more: In His Spirit and flesh they are put together perfectly, as He is true God and true man, perfect love that casts out all fear, for you.
In the prophets, Isaiah saw the day of the One who would be the Suffering Servant. The prophets of Israel were not treated well at all by Israelites. They were thrown into cisterns, marked for death, killed, mocked and despised. The false prophets who taught false doctrine were warmly welcomed into the courts of the cultured despisers of the faith. In Isaiah 52 and 53 is the depths of the prophecy of the Suffering Servant. Luke 22: 3737 For I tell you that this Scripture must be fulfilled in me: 'And he was numbered with the transgressors.' For what is written about me has its fulfillment." He cited Isaiah 53: 12.
In the Psalms: When Jesus was upon the Cross, dying for your life here and to eternal life, He prayed Psalm 22: 1 My God, my God, why have you forsaken me? Psalm 22 is clear: IN the depths of the rout of the world, the flesh and the devil, Jesus triumphed. The Psalms foresaw the royal Davidide, the King descended from David would come forth and yet this King would be David's King, and our as well, yet more than King: Savior.
The great orator of ancient Rome, Cicero said:
"Read at every wait; read at all hours; read within leisure; read in times of labor; read as one goes in; read as one goest out. The task of the educated mind is simply put: read to lead."
4 "Hear, O Israel: The Lord our God, the Lord is one. 5 You shall love the Lord your God with all your heart and with all your soul and with all your might. 6 And these words that I command you today shall be on your heart. 7 You shall teach them diligently to your children, and shall talk of them when you sit in your house, and when you walk by the way, and when you lie down, and when you rise. Deuteronomy 6
This also is true regarding the Lord's written word in the Bible. The Lord reads us like a book, and by His grace alone, He has written us into the Book of life, as we believe. His Word all over our lives. In Jesus Christ, His Word in the Bible becomes the times of refreshing. Read to lead.  Read to lead and so serve someone who might be lost.  Read to lead to stay true to the way who is Jesus.  The task of the saved mind is simply put:  read to lead. As you have read, you are lead by so great a Savior. As you have read,  you are fed.
Let us pray…
As I pray, dear Jesus, hear me;
Let Your words in me take root.
May Your Spirit e'er be near me
That I bear abundant fruit.
May I daily sing Your praise,
From my heart glad anthems raise,
Till my highest praise is given
In the endless joy of heaven.
And the peace of God, which surpasses all understanding, will guard your hearts and your minds in Christ Jesus.