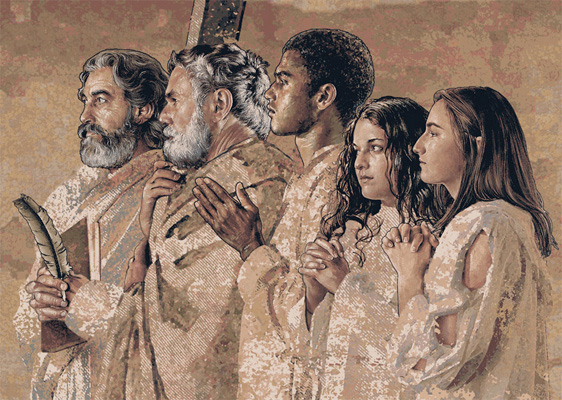 Text: Hebrews 11
Today's New Testament reading is the Roll Call of the Heroes of Faith in Christ with the theme verse, the 11: 1
Now faith is the assurance of things hoped for, the conviction of things not seen. 2 For by it the people of old received their commendation.
In the middle of the Roll Call, there are verses of hope in Christ, by faith, toward the Lord's will in Christ for all:
13 These all died in faith, not having received the things promised, but having seen them and greeted them from afar, and having acknowledged that they were strangers and exiles on the earth. 14 For people who speak thus make it clear that they are seeking a homeland.
From the hymn "I'm but a Stranger Here" (#748, Lutheran Service Book):
I'm but a stranger here,
Heaven is my home;
Earth is a desert drear,
Heaven is my home;
Danger and sorrow stand
Round me on every hand;
Heaven is my fatherland,
Heaven is my home.
We have a hard time with the understanding that the, "earth is a desert drear". Never before in the history of the world have so many people enjoyed the life that just a century before was limited to the wealthy few: indoor plumbing, single family dwellings, lawns, automobiles, flying, vast entertainment and education possibilities through, radio, TV, internet. We like it here. We are very much at home here. We hold on for dear life. Our faith is not bound in hope, but for this world alone.
Yet, if what I have written is true, we are being false to the faith and hope of the saints in Christ. The Lord has a better plan. The Lord laid out this plan in the Resurrection of Jesus of Nazareth: an enduring city, who's builder is none other than the Lord Himself and a foretaste of that hope is the Church Who's Builder is likewise the Lord. Smart phones and computers can deliver a constant barrage of the unholy trinity of sin, death and the power of the devil and on our own we are powerless to stop. We cannot delete the unholy trinity. Even our desire, well, lust for the "good life", the "best life" now and forever demonstrates that eternity is part of our very thoughts, reflecting in a fleshly way, the Lord Himself. Ecclesiastes 3:
11 He has made everything beautiful in its time. Also, he has put eternity into man's heart, yet so that he cannot find out what God has done from the beginning to the end.
Eternity is in our will, that we know we were made forever with the Lord, yet on our own we can not find out "what God has done from the beginning to the end". Now with the Lord's revelation finally and fully of the Incarnation, Ministry, life, death, resurrection and ascension of His Son our Lord, Jesus Christ, we know by what the Lord is doing. For all our pagan attempts to hold onto life, grab all the gusto, we are inwardly looking to ourselves. Then we wonder why are things still just wrong. Selfitis is the despair of our times. All the heroes of the faith, from A-Z, from Abraham to Zechariah were directed by the Lord, outward bound, to seek a "homeland". "Homeland Security" cannot give eternal security and yet we seek eternal homeland security for the here and now. The results are idolatrous. The hope of the homeland which is secure forever has been given: the city of God. We walk by faith, not by sight. We think our I-Phones/Pods and Pads are the "bomb", giving us information and control at a finger swipe but all the while we want to be loved. We live as if this were it, and fear and tremble that it is not. Our inventions are not the final chapter. But,
"With all true Christians running
Our heavenly race and shunning
The devil's wiles and cunning" "God the Father, be our Stay" (TLH, #247)
We know by the Lord's scarred hands that this world is not the final resting place. Christ is. I am, maybe like you, not too crazy about dying…but when we know sin is death and Christ is life eternal, seeking His homeland is sanity in this dark world for which Christ died.
In Hebrews chapter eleven's Hall of Heroes of the Faith, all the saints were looking forward in hope, in the hope of Christ to come. They had no cathedrals, except the Temple not made with human hands: Jesus Christ (John 2:21; 1 Corinthians 3:17 ). We pray many will hear the Word and come to faith and join the journey.
If faith is only for this world, even the Church alone, then we are of all people the most to be pitied: but Christ is raised from the dead for all (1 Corinthians 15:18-20). It is clear from Hebrews 11: Faith not only clings to Christ for what He has done for us but what He will do: Thy Kingdom Come, based upon the Rock of our salvation, what He has done from womb to tomb to the Resurrection. Our national pastime, baseball, has it right: to go home, after all the strike outs, errors, missed catches, we can go home in Christ as His forgiven people, in faith, hope and love. The homeland is given even now:
Jesus answered him, "If anyone loves me, he will keep my word, and my Father will love him, and we will come to him and make our home with him.-St. John 14: 23
Saints, See the Cloud of Witnesses – LSB 667
2 These saints of old received God's commendation;
They lived as pilgrim-heirs of His salvation.
Through faith they conquered flame and sword and gallows,
God's name to hallow.
Let us pray…
Lord God, You have called Your servants to ventures of which we cannot see the ending, by paths as yet untrodden, through perils unknown. Give us faith to go out with good courage, not knowing where we go but only that Your hand is leading us and Your love supporting us; through Jesus Christ our Lord. Amen.