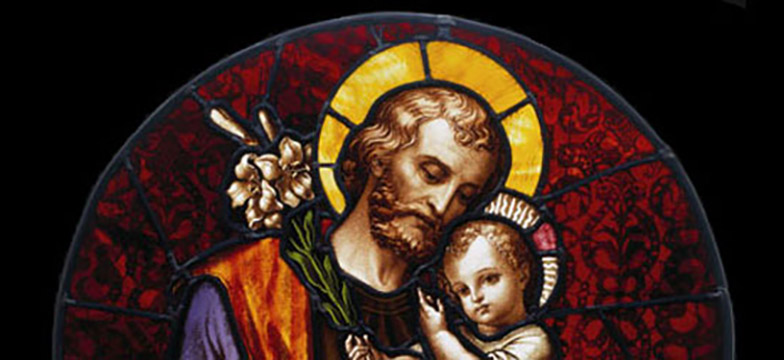 Scripture Readings:
2 Samuel 7:4-16
Romans 4:13-18
Matthew 2:13-15; 2:19-23
Intro: St. Joseph has been honored throughout the Christian centuries for his faithful devotion in helping Mary raise her Son. Matthew's Gospel relates that Joseph was a just man, who followed the angel's instructions and took the already-pregnant Mary as his wife (Matthew 1:24). In the Gospels according to Matthew and Mark, Jesus is referred to as "the carpenter's son" (Matthew 13:55; Mark 6:3). This suggests that Joseph had building skills with which he supported his family. Joseph was an important figure in the early life of Jesus, safely escorting Mary and the child to Egypt (Matthew 2:14) and then settling them back in Nazareth once it was safe to do so (Matthew 2:22). The final mention of Joseph is at the time the twelve-year-old Jesus visits the temple in Jerusalem for the Passover (Luke 2:41-51). Joseph, the guardian of our Lord, has long been associated with caring parenthood as well as with skilled craftsmanship.
Today's Daily Lectionary Old Testament reading is Genesis 39: 1-23 is part of the narrative of Joseph in Egypt as a slave in Potiphar's estate. Potiphar's wife tried to seduce him, but Joseph said no to her and she falsely accused him of sexual abuse. Potiphar had Joseph put in prison and so today is a double Joseph day. The step-Father of Jesus was likewise an admirable man. When Joseph found out that his betrothed Mary was with child, not his (he would not have had marital relations before marriage!), he wanted her to save face and so he decided to quietly divorce her (at the time betrothal was almost as important as the wedding/marriage). Joseph of old was imprisoned and in a sense Joseph of the New Testament was in societal prison because of his beloved's pregnancy. The most important aspect of both Josephs is their obedience which comes by faith in the Lord (see Romans ).
About the first Joseph, and the second Joseph, Dr. Paul Kretzmann commented,
"With a clean conscience and the Lord's favor on their side, the believers are able endure not only false accusations, but even worse tribulations, the loss of liberty and life."  
This is pertinent and relevant quote in a time of epidemic and pandemic.  Restricted to our homes, we don't know what to do but obey the encouragement to watch more TV.  And our faith may be weak or strong. There are other responses as in the hymn verse (and hymn verses are also prayer):
Thy righteousness, O Christ,
Alone can cover me;
No righteousness avails
Save that which is of Thee.
To whom save Thee, who canst alone
For sin atone, Lord, shall I flee? (TLH #380)
As both Josephs, we can flee to the Lord for He has sought us and found us. First, His law finds us out. We can't hide the fact we are sinners before the Lord. We can maybe fool others (usually, not our spouses!), but not the Lord. And the Lord Jesus finds to make us His own so we can repent:
Almighty God, our Maker and Redeemer, we poor sinners
confess unto Thee that we are by nature sinful and unclean,
and that we have sinned against Thee by thought, word, and deed.
Wherefore we flee for refuge to Thine infinite mercy, seeking and
imploring Thy grace for the sake of our Lord Jesus Christ.
We flee for refuge to the Lord, not the TV.  In Christ, we are to serve and love our neighbor in our homes and those we can help.  Both Josephs did so and show us the way of the Lord even in times of quarantine and restriction.
Collect of the Day:
Almighty God, from the house of Your servant David You raised up Joseph to be the guardian of Your incarnate Son and the husband of His mother, Mary. Grant us grace to follow the example of this faithful workman in heeding Your counsel and obeying Your commands; through Jesus Christ, our Lord, who lives and reigns with You and the Holy Spirit, one God, now and forever. Amen.