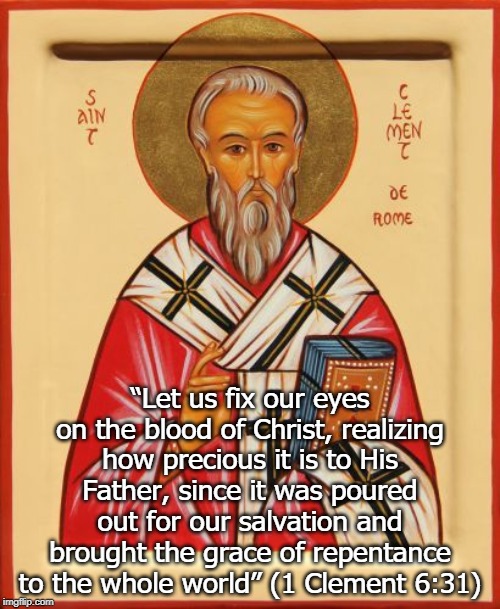 Prayer of the Day
Almighty God, Your servant Clement of Rome called the Church in Corinth to repentance and faith to unite them in Christian love. Grant that Your Church may be anchored in Your truth by the presence of the Holy Spirit and kept blameless in Your service until the coming of our Lord Jesus Christ, who lives and reigns with You and the Holy Spirit, one God, now and forever.
Clement (ca. A.D. 35–100) is remembered for having established the pattern of apostolic authority that governed the Christian Church during the first and second centuries. He also insisted on keeping Christ at the center of the Church's worship and outreach. In a letter to the Christians at Corinth, he emphasized the centrality of Jesus' death and resurrection: "Let us fix our eyes on the blood of Christ, realizing how precious it is to His Father, since it was poured out for our salvation and brought the grace of repentance to the whole world" (1 Clement 6:31). Prior to suffering a martyr's death by drowning, he displayed a steadfast, Christ-like love for God's redeemed people, serving as an inspiration to future generations to continue to build the Church on the foundation of the prophets and apostles, with Christ as the one and only cornerstone. (from The Lutheran Church-Missouri Synod website, see Blogroll on sidebar)
Reflection:  In the bio and in the quote above the word "fix" is employed.  In the Prayer of the Day for the 5th Sunday after Easter, the Church prays,
"Grant that we may love what You have commanded and desire what You promise, that among the many changes of this world our hearts may be fixed where true joys are found, through Jesus Christ, Your Son, our Lord…"
Our hearts, that is,  our wills are fixed, that is, guided and repaired in true repentance for the fruit of the joys of His crucifixion and resurrection by our hearts fixed on Him,  His forgiveness for us, in us, with us. His life is in our lives. This is heard and seen in His Sacraments. His gift of life is His blood.  We can not repair our hearts, our wills on our own.  No one did heart surgery on himself, one needs a physician. We are fixed by fixing our hearts and eyes on Jesus Christ and that "fix" is prayer, the prayer of faith in the Lord, in Whom we are made one in Christian love and Pastor Clement made this clear. "Let us fix our eyes on the blood Christ…" In our land, and in all lands, the Lord needs His fixed people to live as Christians.
Reading from St. Clement's First Epistle: "But no to dwell upon examples, let us come to the most recent spiritual heroes. Let us take the noble examples furnished in our own generation. Through envy and jealousy, the greatest and most illustrious pillars [of the Church] have been persecuted and put to death. Let us set before our eyes the illustrious apostles. Peter, through unrighteous envy, endured not one or two, but numerous labors and, when he had at length suffered martyrdom, departed to the place of glory due to him. Owing to envy, Paul also obtained the reward of patient endurance, after being seven times thrown into captivity, compelled to flee, and stoned. After preaching both in the east and west, he gained the illustrious reputation due his faith, having taught righteousness to the whole world, and [coming] to the extreme limit of the west, he suffered martyrdom under the prefects. Thus was he removed from the world, and went into the holy place, having proved himself a striking example of patience…
It is right and holy, therefore, men and brethren, to obey God rather than to follow those who, through pride and sedition, have become the leaders of a detestable emulation. For we shall incur no slight injury, but rather great danger, if we rashly yield ourselves to the inclinations of men who aim at exciting strife and tumults, so as to draw us away from what is good. Let us be kind one to another after the pattern of the tender mercy and kindness of our Creator. For it is written, "The kind-hearted shall inhabit the land, and the guiltless shall be left upon it, but transgressors shall be destroyed from off the face of it." (Quoted in The Treasury of Daily Prayer, Concordia Publishing House)