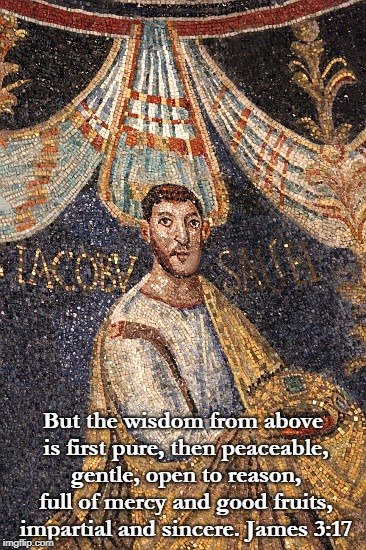 Lessons: Acts 15: 12-22a, Psalm 133, James 1: 1-12, St. Matthew 13: 54-58
Prayer of the Day:
Heavenly Father, shepherd of Your people, You raised up James the Just, brother of our Lord, to lead and guide Your Church. Grant that we may follow his example of prayer and reconciliation and be strengthened by the witness of his death; through Jesus Christ, Your Son, our Lord, who lives and reigns with You and the Holy Spirit, one God, now and forever.
Biography: St. James of Jerusalem (or "James the Just") is referred to by St. Paul as "the Lord's brother" (Galatians 1:19). Some modern theologians believe that James was a son of Joseph and Mary and, therefore, a biological brother of Jesus. But throughout most of the Church (historically, and even today), Paul's term "brother" is understood as "cousin" or "kinsman," and James is thought to be the son of a sister of Joseph or Mary who was widowed and had come to live with them. Along with other relatives of our Lord (except His mother), James did not believe in Jesus until after His resurrection (John 7:3-5; 1 Corinthians 15:7). After becoming a Christian, James was elevated to a position of leadership within the earliest Christian community. Especially following St. Peter's departure from Jerusalem, James was recognized as the bishop of the Church in that holy city (Acts 12:17; 15:12ff.). According to the historian Josephus, James was martyred in AD 62 by being stoned to death by the Sadducees. James authored the Epistle in the New Testament that bears his name. In it, he exhorts his readers to remain steadfast in the one true faith, even in the face of suffering and temptation, and to live by faith the life that is in Christ Jesus. Such a faith, he makes clear, is a busy and active thing, which never ceases to do good, to confess the Gospel by words and actions, and to stake its life, both now and forever, in the cross. (From The Treasury of Daily Prayer, Concordia Publishing House)
Reflection 1:
Hebrews 2 11 For he who sanctifies and those who are sanctified all have one source. That is why he is not ashamed to call them brothers, 12 saying, "I will tell of your name to my brothers;
in the midst of the congregation I will sing your praise."
Even though James was the Lord's half-brother, or a cousin/kinsman, nevertheless he was the Lord's brother. Indeed,
"A friend loves at all times, and a brother is born for adversity." (Proverbs 17: 17)
As we read in the Hebrews 2 passage above, Jesus is our brother and He loves at all time and He was born for adversity. The only difference between Jesus and James, and our brothers and sisters in our families and in our family in Christ: Jesus is also our Lord. Christ Jesus is not ashamed to call us brothers as He has washed us in His crimson tide. He is the source of our family and our brother James is before the throne of God with all the saints and angels. Jesus is our Lord and Brother born to bear the adversity of sin, death and the devil. "God is glorious with His angels and saints, O come let us worship Him" (versicle and response for the latter portion of the Pentecost Season).
Reflection 2: James was quite important in the early history of the Church as indicated in the Scripture references cited above in James' bio. He was witness to the Resurrection. He believed. In his letter, James did not assert his family lineage but his vocation: "a servant (also translated as slave) of God and the Lord Jesus Christ"(chapter 1). James, the half-brother of Jesus, was His servant as all who are baptized. He knew that it was only by the "implanted Word", could a man and a woman be saved:
19 Know this, my beloved brothers: let every person be quick to hear, slow to speak, slow to anger; 20 for the anger of man does not produce the righteousness of God. 21 Therefore put away all filthiness and rampant wickedness and receive with meekness the implanted word, which is able to save your souls. (James 1)
We live in an age of anger, even extreme anger. James wrote of anger.He encourages us to be "slow to speak, slow to anger", as even our 'righteous anger' does not, "…produce the righteousness of God." So no matter how self-righteously I go on and on about this or that issue or cause, even issues and causes that are important, my words will not produce, create, and form in me the righteousness of God. Self-righteousness only produces "filthiness and rampant wickedness". There is only one Seed, the Seed of Abraham, died and risen who can stanch the flow of anger and produce the righteousness of God: As James wrote, the implanted Word can save your soul. He implants in us faith in the Lord who imparts the wisdom of forgiveness. Implanted into the womb of James' mother, Mary. James would have heard the narrative of the Annunciation by the archangel Gabriel to his Mother from his Mother! James' Lord is the Word made flesh, Jesus the Christ. The same Word implanted by the careful and faithful preaching and teaching of Christ for us and for our salvation, as St. James so preached and taught.
We sing of James, Christ's brother/Who at Jerusalem/Told how God loved the Gentiles/And, in Christ, welcomed them.
Rejoicing in salvation/May we too, by God's grace, Extend Christ's invitation/To all the human race.
("By All Your Saints in Warfare", Lutheran Service Book, #518, stanza 27)