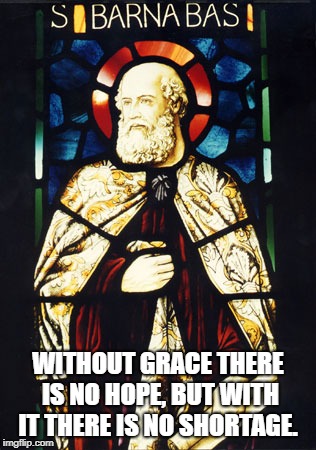 Grant, O God, that we may follow the example of your faithful servant Barnabas, who, seeking not his own renown but the well­-being of your Church, gave generously of his life and substance for the relief of the poor and the spread of the Gospel; through Jesus Christ our Lord, who lives and reigns with you and the Holy Spirit, one God, for ever and ever. Amen.
Readings: Isaiah 42: 5-12 Psalm 112 Acts 11: 19-30; 13: 1-3 St. Mark 6: 7-13
Bio:
"St. Barnabas was a Levite from Cyprus who sold some land and gave the proceeds to the early Christian community in Jerusalem (Acts 4:36-37). St. Paul informs us that hewas a cousin of John Mark (Colossians 4:10). Barnabas was sent by the Jerusalem Church to oversee the young Church in Antioch (Acts 11:22). While there, he went to Tarsus and brought Paul back to Antioch to help him (Acts 11:25-26). It was this Church in Antioch that commissioned and sent Barnabas and Paul on the first missionary journey (Acts 13:2-3). When it was time for the second missionary journey, however, Barnabas and Paul disagreed about taking along John Mark. Barnabas took Mark and went to Cyprus; Paul took Silas and headed north through Syria and Cilicia (Acts 15:36-41). Nothing more is known of the activities of Barnabas, except that he was apparently known to the Corinthians (1 Corinthians 9:6). Tradition relates that Barnabas died a martyr's death in Cyprus by being stoned.
"Barnabas was a Jew, a Levite born in Cyprus, one of the first disciples of the apostles, and Paul's traveling companion until the sixteenth year after the resurrection of Christ. He is mentioned in [Acts] 4, 9, 11, 13, 14, 15, 1 Corinthians 9, Galatians 2. Part of the sermons of Barnabas is recited by Clement [of Alexandria] in his Stromateis:
"Before we believed in God, the dwelling of our heart was corruptible and fragile; truly it was a temple made by hands, when it was full of idolatry, and was a house of demons. But behold! It has been built gloriously into the temple of the Lord. How? By receiving the remission of sins and by hoping in the name of Christ, let us become new and re-created,because God truly dwells in us. How? When these dwell in us: the Word of His faith, the calling of His promise, the wisdom of  justification, and the mandates of doctrine."
"Barnabas is the same as "Son of consolation" (Acts 4), from bar, "son," and nafesh, "recreate, revive, console," and so on. Eusebius (bk. 1, ch. 14) writes that he was one of the seventy disciples.—David Chytraeus (From The Treasury of Daily Prayer, CPH)
Reflection: "Son of Encouragement"
In Acts 4, where we first meet Barnabas, he may have been encouraged by Peter's preaching and his bravery and the fact that the scribes and Pharisees noted about Peter and John that, "…they were uneducated, common men, they were astonished." And,
"Thus Joseph, who was also called by the apostles Barnabas (which means son of encouragement), a Levite, a native of Cyprus, 37 sold a field that belonged to him and brought the money and laid it at the apostles' feet."
This was probably quite encouraging to the early Church. Later, Barnabas and St. Paul had a "sharp disagreement" over their missionary plans and especially who would accompany them in the Lord's work, see Acts 15:38-40. Yet later, it seems these brothers in Christ reconciled, see Colossians 4:10. This too would have been encouraging.
Hebrews 3: 13, we are encouraged to be encouraging, to be Barnabas: "But encourage one another daily, as long as it is called "Today," so that none of you may be hardened by sin's deceitfulness."
The Greek word for "encourage" is parakaleite. It is also translated as comfort, help and exhort. The Lord uses this Word to describe the Holy Spirit, Paraklētos. Please note the similarities between the two Greek words as they are related.
"But when the Helper (Paracletos) comes, whom I will send to you from the Father, the Spirit of truth, who proceeds from the Father, he will bear witness about me" (St. John 15). 
Paraclete means Advocate, Counselor, Comforter and that is what encouragement does in our souls. Our English word encouragement has it's root a French word, corage, cour, heart. Encouragement means to hearten someone else.
Encouragement is a chain effect, spreading from person to person, in secular work and culture but especially in the Church. In the Church, this is uniquely so. Literally, parakaleo means "called alongside of", as you are called alongside your family, your co-workers, strangers you meet and the like. The Holy Spirit is alongside of us with the weapons of the Spirit to strengthen one another in Christ Jesus in the glory of God the Father. Pray that when the time is right, you are a Barnabas for someone else and may you speak a word and parakaleo and may it also be the Word!
Hymnody
For Barnabas we praise You, Who kept Your law of love/ And, leaving earthly treasures, Sought riches from above./ O Christ, our Lord and Savior, Let gifts of grace descend,/ That Your true consolation May through the world extend.
—By All Your Saints in Warfare (LSB 518:17)